Trip ke Koh Lipe, Thailand 2018
June 13, 2018
Secara umumnya, kalau kita nak pergi bercuti-cuti kemana-mana, rujukan utama kita adalah personal blog dan juga review-review dari travellers yang menulis dengan lengkap pengalaman percutian mereka. April 2018 yang lalu, we marked Koh Lipe sebagai destinasi pulau kami bagi tahun 2018. It was unplanned vacation sebenarnya. Kami tinggal di Changlun, Kedah, jadi untuk ke Thailand, bukanlah jauh dari segi jaraknya. mengambil kira faktor tersebut, hubby and I agreed to go by road from Changlun to Jetti Pak Bara, Satun, Thailand.
Untuk ke Koh Lipe Island (refer maps kat bawah), yang terletak di daerah Satun di Thailand, kita kena pergi ke Jeti yang dinamakan Pak Bara Jetty.
Nak sampai jeti Pak Bara tu, kami drive dari Changlun ke Imigresen Wang Kelian, Perlis. Kiranya nak pergi Thailand tu, kami keluar ikut Wang Kelian untuk cop passport dan kereta. Perjalanan dia jadi macam ni;
Changlun, Kedah --> Wang Kelian, Perlis --> Pak Bara Jetty --> Koh Lipe Island
*Changlun ke Wang Kelian dalam 40 minit
**Wang Kelian ke Pak Bara Jetty dalam 1 jam 30 minit
***Dari Jeti Pak Bara ke Koh Lipe tu naik speed boat dalam 1 jam 40 minit (Tiket Speed Boat g balik sorang THB900 (RM112).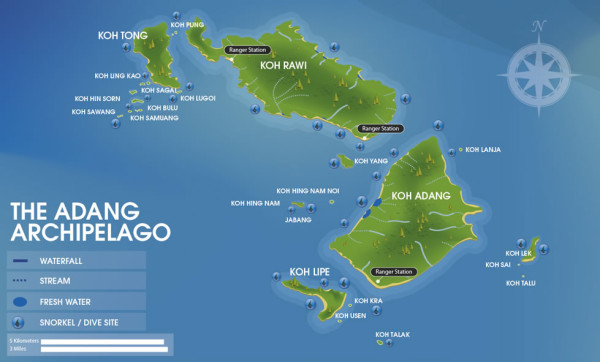 Tengok map ni, Koh Lipe tu pulau yang kecil jer. Kami x stay di Koh Lipe, kami stay di Koh Adang (pulau besar). Nak g Koh Adang, kena g Koh Lipe dulu la. Dari Koh Lipe baru naik boat kecik (long-tail) ke Koh Adang.
Nilah jetty Koh Lipe. No such thing as platform or anything. turun2 jer, terus air laut menunggu. so pakai selipar jepun jer g sana nanti.
Koh Lipe ke Koh Adang? Jangan panik, selalunya tourist akan pergi Koh Lipe, sebab kat Koh Lipe tu dah developed. Semua bahagian kat Pulau Koh Lipe tu dah dimajukan dengan hotel dan resorts. Kalau tourist dtg, mereka akan menginap di Koh Lipe, dan akan buat Island Hoping kalau nak g pulau sekeliling Koh Lipe tu seperti Koh Adang. So aktiviti snorkelling selalunya akan pergi ke Koh Adang. Tapi kami jenis x suka lompat-lompat pulau ni, jadi x tenang, rushing, xde privasi dan macam2 lagi lah. Jadi amik jalan senang, kami stay jer terus kat resort yang ada di Koh Adang tu. Ada satu resort jer kat Koh Adang tu. kiranya authentic dan virgin lagi ah Koh Adang tu. Kami stay kat Adang Island Resort (1/4/2018 - 3/4/2018) berjumlah THB4,666 (RM580) bagi dua malam. Ada breakfast, ada swimming pool, ada cafe, the crystal clear water beach just right in front of you. No sweat for snorkelling, lompat-lompat jer, dah boleh snorkelling, x payah kalut nak naik boat ke apa. Tu lah reason kenapa kami x stay kat Koh Lipe.
Untuk ke Koh Adang dari Koh Lipe tu, kami naik long-tail boat yang resort sediakan. Kalau naik yang boat rider kat situ, dia charge THB100 sorang, kanak-kanak free jer. Dalam 10 minit jer naik boat tu nak g Koh Adang.
Long-tail boat yang bawa kami dari Koh lipe ke Koh Adang.
Dah sampai Koh Adang.
We have planned our light itinerary during the vacation. Kami pergi mana2 pun, kami x suka pergi dgn travel agent sebab timing payah nak ikut. When we travel, we possibly look for less hassle vacay, the most relaxing as we can. So, being our own tour guide is the best option we have. It just that we have to double up our reading, gather as much information as we can. So kami decided utk maximize kan beach activities (swimming, floating, snorkeling, sunbathing, taking picture, building sand castle with our kids, swimming in the pool and enjoying the sunset and little bit of adventurous activity to expose our kids with the jungle, so we had our short hiking). Itulah aktiviti kami.
Tu lah Koh Adang Resort. The only resort yang ada di Koh Adang.
Our room. The bed is even bigger.
The swimming pool at the resort.
I don't know about others, bila kami bercuti maksudnya, kami betul-betul relax. Kami x akan spend masa untuk melawat telaga buruk ke, kutip peluru zaman Portugis ke, tengok bangunan lama-lama ke. We are not into that type probably. Untuk beach vacation, kami fully utilize life over the beach. Our kids, Aishah and Bob can spend sebanyak mana masa mereka ada untuk main pasir pantai, tidur berguling-guling kat pantai, lepas tu lompat dalam swimming pool sebanyak mana mereka nak. While both of us can relax by the beach, i choose to have my light reading, scrolling the instagram feeds, and snap as many pictures as i can. My husband did his snorkeling, canoeing and talking to the fishes. You imagine lah, cuaca yang panas, you berjemur kat situ, pastu boleh deep into the sea water yang jernih macam cermin tu sepuas-puasnya. Kalau ikut island hopping, I don't think you have extra time to do that, sebab you nak hop to other islands plak. Lepas dah puas berjemur, you boleh lompat dalam swimming pool plak, pastu ada jus nenas yang fresh for you to sip. Is that a temporary bliss? True isn't.
Right in front of our resort. Pulau belakang Aishah tu lah Koh Lipe. Dekat kan?
Most of the books and magazine are from different countries, which the tourist left there,
Hiking with the kids was so chaotic, yet valuable experience. Bob insisted to be carried, no way for him to walk on his own. Aishah was fine despite her chattybox nagging why we ended up in the jungle. Good thing after we finished the hiking, she said, she actually scared of the tigers. lol.
How come my boy became so weedy.
This is what we do best while in Lipe. Beach beach beach.
When having a very relaxing moment is too limited due to our busy working schedule, this is just what we want in a while. Escape our day with the never ending work at the office. Remember that we will spend 75% of our life spam with work, so taking a short and peaceful break is no harm at all. Believe me, laying down on the beach, get yourself sunbath, take a sleep over the beach, everything were just a bless. You can come back to office fresh, with fresh mind, fresh body and importantly fresh soul.
My boy dipping and enjoying the sunset.
They even had their canoe ride.
Bila dah tengahari sikit, kami akan naik long-tail boat untuk ke Koh Lipe, nak cari makanan, nak makan nasi. Kat Koh lipe, tak payah risau pasal makanan, halal dan semua sedap-sedap. Seafood fresh, nasi putih jernih, tomyam terbaik. Anak-anak kami senang, makan buah jer. Air kelapa, jus nenas adalah yang wajib untuk diminum kat sana la. No sugar, yet the sweetness is there!Yummy! Bear in mind, kat Koh Lipe atau Koh Adang, cuaca memang panas. Jadi kalau nak ke sana, bawak light clothes jer like beach wear.
Our lunch, can even pack for dinner.
While waiting for our long-tail boat to come, got the chance to enjoy the splendid view of the sea.
Spectacular view of the sea
When moving in and out between Koh Adang and Koh Lipe is just 7-10 minutes away with long-tail boat.
Indeed, Koh Lipe adalah pulau terbaik yang patut dikunjungi. Boleh jugak naik ferry dari Langkawi. Koh lipe xde airport ya, kecik jer pulau pun, nak landing kat mana kan. Enjoy the pictures then, and have fun while you in Koh Lipe!
Bye, Wahida!
*Next is Krabi!